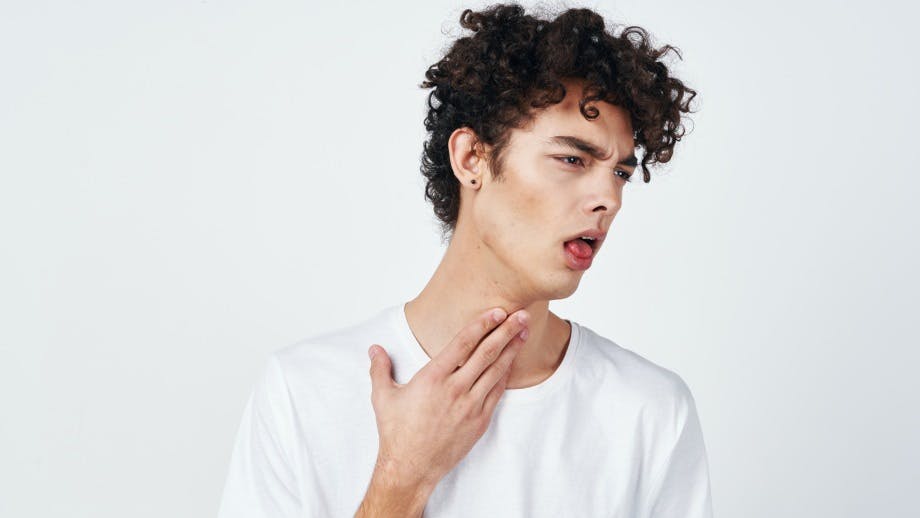 Dealing with dry mouth alone is bad enough, but a combination of dry mouth and dry throat can become irritating over time. If you have a dry mouth and throat, they could possibly be related. Dry or sore throat and hoarseness is one symptom of dry mouth.1 Keep reading to learn about a dry mouth and a sore throat, if yours are related and how you can get relief from their discomfort.
What Is Dry Mouth?
Dry mouth is a condition where your salivary glands don't make enough saliva to keep the inside of your mouth wet.1 Saliva is important because it helps to prevent tooth decay, washes away food particles, enhances your ability to taste and makes it easier for you to chew and swallow.1 You might have dry mouth if you are experiencing any of the following symptoms:1
Dryness in your mouth
A sticky feeling in your mouth
A dry or grooved tongue
Thick and stringy saliva
Bad breath
Difficulty chewing food
Difficulty swallowing food
Difficulty speaking
A changed sense of taste
A dry or sore throat
Causes of Dry Mouth
You might be doing things and using products that are causing you to have dry mouth. Some of the causes are within your control, but some of them aren't. Examples of some causes of dry mouth are:
Medications.1 Some prescriptions and over-the-counter products can cause dry mouth.1 Medicines that are used to help with depression, high blood pressure and anxiety are more likely to have dry mouth as a potential side effect.1 Some over-the-counter products, such as antihistamines, decongestants, muscle relaxants and pain medications can cause dry mouth.1
Using tobacco or drinking alcohol.1 Smoking and chewing tobacco can increase symptoms of dry mouth.1 Drinking alcohol can also increase symptoms of dry mouth.1
Using recreational drugs.1 Marijuana can increase symptoms of dry mouth.1 Methamphetamine can cause "meth mouth," which includes severe symptoms of dry mouth and damage to your teeth.1
Cancer therapy.1 Some chemotherapy medications can cause you to have temporary dry mouth.1 Your saliva production may return back to normal once this type of treatment is finished.1 Head and neck radiation treatments can cause dry mouth that might be temporary or permanent depending on how much radiation is given and where it's administered.1 If the radiation treatment is administered to your head or neck, it can damage your salivary glands, which could lead to dry mouth.1
Nerve damage.1 If you injure your head or neck, you can have potential nerve damage that causes dry mouth.1 Having surgery to your head or neck area can also cause dry mouth if the nerves are damaged.1
Other health conditions. Snoring and breathing with your mouth open can cause dry mouth.1 Diabetes, stroke, Alzheimer's disease, Sjogren's syndrome, HIV and AIDS can also increase the symptoms of dry mouth.1
Aging. As you get older, you might experience dry mouth. If you use certain types of medications as you age, your body will process them differently.1 You might experience more long-term health problems as you age, and some of those health conditions can cause dry mouth.1 A lack of proper nutrition can also contribute to dry mouth.1
What Is a Sore Throat?
A dry or sore throat is an irritation or scratchiness in your throat that causes pain or discomfort when you swallow.2 If your neck's glands are sore or swollen, your throat might be sore.2 If your tonsils are swollen, red or have white pus patches on them, you might also have a sore throat.2 If your throat hurts when you talk or your voice is hoarse, it can make your throat feel sore.2 However, white pus patches are not a sign of dry mouth. Consult with your healthcare provider to learn more about your sore throat symptoms.
Possible Causes of a Sore Throat
Your sore throat might be caused by a viral infection, such as the common cold, a flu virus, mono (mononucleosis), measles, chickenpox or COVID-19.2 Allergies to things like pet dander, molds, dust and pollen can irritate your throat and cause its soreness.2 Yelling, talking loudly and talking for long periods at a time can also cause you to have a sore throat.2 Chewing or smoking tobacco, drinking alcohol and eating spicy foods that lead to heartburn can increase your sore throat symptoms.2
How a Dry Mouth and Throat Could Be Related
A dry or sore throat can be a symptom of dry mouth.1 Dry indoor air can increase nasal congestion, which can cause you to breathe through your mouth instead of your nose.2 Breathing through your mouth can result in you having a dry mouth and a dry, sore throat.2
Remedies for a Dry Mouth
If you are experiencing a dry mouth and throat, there are things you can do and buy to help relieve your symptoms. Some remedies you can try to help your dry mouth and sore throat are:
Avoid things that increase your chances of having dry mouth. Quit smoking and chewing tobacco.3 Stop drinking alcohol—even alcohol that's in mouthwash. Use an alcohol-free mouthwash that's designed for dry mouth instead, like Biotène Dry Mouth Oral Rinse.3 Limit how many over-the-counter antihistamines and decongestants you take.4 If you need to take over-the-counter products to ease pain, try acetaminophen, ibuprofen or naproxen instead.4 It is advisable to check with your healthcare provider if symptoms persist.
Keep your mouth moist. Chewing sugar-free gum or sucking on sugar-free candy, like Biotène Dry Mouth Lozenges, can help stimulate saliva flow.3 Drink water throughout the day as it can help keep your mouth moisturized.3 Warm drinks, like tea, and cold liquids like popsicles, can also help keep your mouth moisturized and help sooth your sore throat.4
Add moisture to your bedroom at night. Using a humidifier can keep the air in your bedroom moist.3 If you sleep with your mouth open, the humid air can keep your mouth and throat moist until you wake up.
Use over-the-counter saliva substitutes. Buy products that contain xylitol, such as Biotène Oralbalance Moisturizing Gel or Biotène Moisturizing Spray.3 Xylitol is a sugar alcohol substitute that helps increase saliva production.5
Use other over-the-counter products that are specialized to help with dry mouth. Biotène products include mouth rinses and spray gels to help relieve your dry mouth symptoms. The Biotène rinse, gel and spray are clinically proven to sooth and moisturize a dry mouth for immediate, long-lasting symptom relief. Biotène also features a fluoride toothpaste formulated to not irritate the mouth and a lozenge to help freshen breath on-the-go.
Explore the Biotène website for more tips and tricks on managing your dry mouth. Discover natural remedies that can help relieve your symptoms and learn what foods work best at helping to keep your mouth moisturized and your throat smooth.