Medications can impact saliva production and lead to xerostomia
(dry mouth)
Perhaps you have had the experience of talking with someone when all of a sudden you notice a dryness or feeling of stickiness in your mouth. If this has been a common occurrence for you, then you may be experiencing xerostomia, or dry mouth.1 Health professionals define dry mouth as a condition in which the salivary glands don't make enough saliva to keep your mouth wet.2
Dry mouth may not seem like a serious condition, as some people may only experience the annoying symptoms of bad breath or a dry or sore throat.3 However, there are more serious effects that dry mouth can have, such as a major impact on the health of your teeth and gums or causing a changed sense of taste.4 There are a number of things that can cause dry mouth, including taking medication. In fact, dry mouth can be a side effect of more than 500 different medications, including over-the-counter and commonly prescribed medications.
Everyday medications can cause xerostomia
Hundreds of medications, including many that are
over-the-counter, can produce dry mouth symptoms as a side effect.
Taking multiple medications may increase your risk of dry mouth
by 40%. Some of the most common medications that can cause
xerostomia include:
Antidepressants
Decongestants
Antihistamines
Muscle relaxants
Appetite suppressants
Diuretics
Because many of the medications that cause xerostomia are commonly used to treat problems like depression, high blood pressure, and anxiety, there is an increased chance that you may be suffering from dry mouth if you experience any of these conditions and take medication for them.6 Be sure to talk with your doctor before taking any of the medications listed above to gain a better understanding of the side effects and what to do if you start experiencing dry mouth.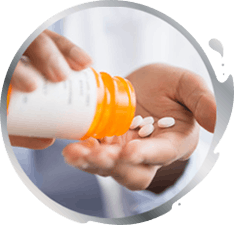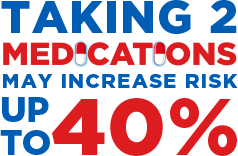 Medical treatments & therapies
can also cause

Dry Mouth
Dry Mouth can be a common side effect of various medical
treatments. Specifically, if you're being treated for cancer, your
chemotherapy or radiation cancer treatments can lead to dry
mouth. In fact, your salivary glands can become severely damaged when you experience radiation treatments to your head and neck, which can then cause a decrease in saliva production.5 You may also experience dry mouth if you're taking
medications to relieve depression or anxiety, or being treated
for an overactive bladder. Tobacco and alcohol use can also be the reason that you may be experiencing dry mouth.7 Other health conditions such as diabetes or autoimmune diseases like Sjogren's syndrome or HIV/AIDS could also be causing you dry mouth.8
Is medication causing your


Dry Mouth?
Talk to your doctor or pharmacist to find out if the medication
you take could be causing your dry mouth.
In the meantime, try Biotène® Dry Mouth Oral Rinse to help relieve your symptoms and schedule an appointment to see your dentist regularly as part of a good oral care routine. Learn more about living with dry mouth and discover how to manage dry mouth at night, ways to manage dry mouth at work, and more.