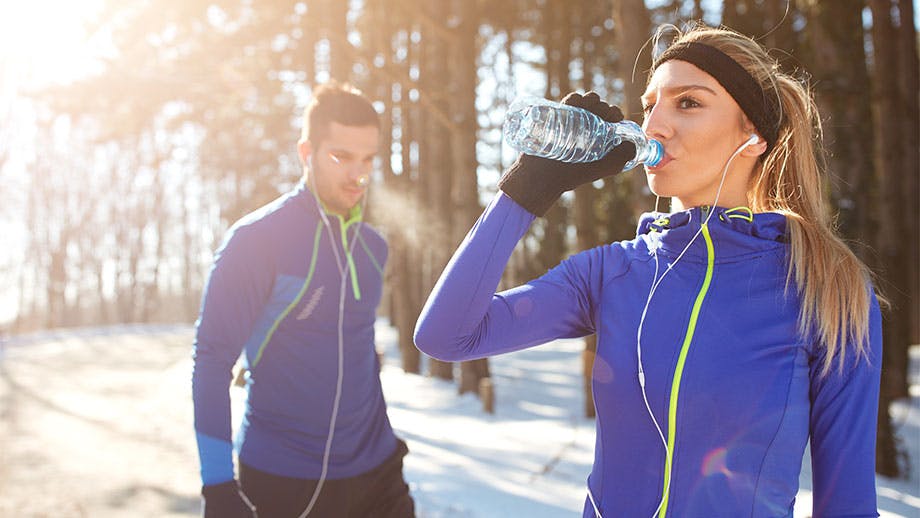 If you suffer from dry mouth, you're familiar with the uncomfortable feeling and extra steps you have to take to manage your symptoms. If that's the case, consider these tips for relieving your discomfort, staying hydrated and managing your dry mouth this winter season.
Why Is Dry Mouth Common in the Winter?
There are several reasons why your mouth can feel drier in the winter, including:
Reduced humidity levels.

Cold air and indoor heating systems can decrease humidity levels and exacerbate dry mouth symptoms.2 The decreased humidity in the air during colder months can dry out your sinuses and throat, which may exacerbate the symptoms of dry mouth.2

Dehydration.

It may feel counterproductive to drink a big glass of cold water when temperatures drop but your body loses water at the same rate in cold water as it does during warm weather.3 You lose moisture through sweating, breathing and urinating, which means that you need to be as mindful of water intake in the winter.3 If not, you could get dehydrated, which leads to dry mouth.3
How to Stay Hydrated in the Winter
Staying well-hydrated is crucial during the winter months; your body will tell you if you're not getting enough water and dry mouth is one of those cues.3 Try these tips to prevent dehydration.
Increase your fluid intake.

Drinking more water throughout the day can help maintain hydration levels and help soothe a dry mouth. In general, experts recommend aiming for eight to 12 glasses of water each day, unless otherwise instructed by a doctor.1 Another good metric is to drink half your body weight in ounces of water every day.3

Limit dehydrating beverages.

Reduce your consumption of caffeine, alcohol, sugary drinks and acidic juices as they can contribute to dehydration and worsen dry mouth. In addition, avoid drinks or mouthwashes with hidden alcohol in their ingredients list.1

Maintain the humidity levels in your home.

Balancing indoor humidity levels can help prevent dry mouth in the cold weather. Try using a humidifier in your bedroom and other frequently visited areas to add extra moisture to the air if your living space feels dry.1,3
Help Relieve Dry Mouth with Good Oral Hygiene
In addition to staying hydrated, tending to your oral hygiene with a regular routine can help dry mouth symptoms. Take these steps to prevent and help manage dry mouth, and always follow the instructions of a dental professional:
Brush and floss regularly.

Brush teeth twice daily using a soft-bristled toothbrush and fluoride toothpaste. Floss daily to remove plaque bacteria buildup that can contribute to dry mouth symptoms.1

Use a targeted mouthwash or rinse.

1 Try an alcohol-free mouth rinse that's designed to help treat dry mouth, like

Biotène

, a line of product with a moisturizing formula that refreshes and moistens instantly to help relieve dryness.
Relieve Dry Mouth with Lifestyle Changes
Making certain lifestyle changes may help reduce the frequency and severity of your dry mouth during the winter.
Quit smoking and reduce alcohol consumption

Refrain from smoking tobacco and drinking alcoholic beverages since both substances can dry out your mouth.1

Chew sugarless gum or hard candy.

Chewing gum or sucking on sugar-free hard candy can help relieve dry mouth by increasing saliva production.1

Try and avoid mouth breathing.

Make a conscious effort to breathe through your nose rather than your mouth to reduce the drying effects of cold air. If you find yourself breathing through your mouth at night due to nasal congestion, consult with your doctor for a solution.4
Enjoying the winter months means making snow angels and going sledding, not grappling with dry mouth. Now that you understand the cause of this troublesome condition, you can find relief and start enjoying the season. Implement these strategies to manage dry mouth and boost hydration. In addition, try Biotène Dry Mouth Rinse and Mouthwash.