Treat the discomfort & meet
the solution
If you're experiencing a dry or sticky feeling in your mouth,
hoarseness, dry nasal passages, a sore throat and/or bad breath,
chances are you might have Dry Mouth. Take action and help
manage your Dry Mouth symptoms with Biotène®. Biotène®,
the #1 dentist recommended brand for Dry Mouth, instantly:
Moisturizes your dry, rough tongue
Helps freshen your bad breath
Soothes your irritation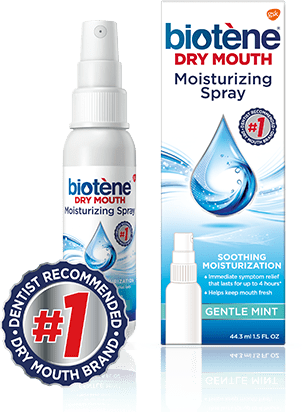 BIOTÈNE® TIPS & TRICKS
In addition to using Biotène®, here are a few other things you can do
help to alleviate the dryness:
Eat smaller, more
frequent meals

to help stimulate saliva flow and add
moisture to your mouth
throughout the day.

Breathe through
your nose,

not your mouth, as much as possible.
This will help keep your mouth moist.

Use a room humidifier

to add moisture to the air.
Dry air can exacerbate
Dry Mouth symptoms.

Limit salty or dry foods

like crackers or dried meats, which
can cause pain in a dry mouth.
Eat soft, moist foods instead.

Combine Biotène®

with these other tips throughout
the day to help you better manage
your Dry Mouth symptoms.