Leave
Dry Mouth

behind on your getaway

Going on vacation should be an escape, but if you're traveling with Dry Mouth, it can be tough to relax.
No matter how you're getting there or where you're going, you can manage your symptoms to make
sure that your trip goes smoothly at every stage.
7

TIPS TO HELP YOU
ENJOY YOUR TRIP


Research food options
available to you on your
trip, especially if you're
traveling abroad. Soft,
moist foods are the most
Dry Mouth–friendly choices
since they are easier to eat.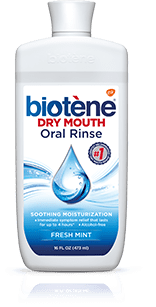 In addition to your regular
oral care essentials, pack
products specifically made
for Dry Mouth symptom
relief, such as Biotène® Dry
Mouth Oral Rinse.
Be sure to bring a travel
humidifier so you can
get a good night's rest while
you're away. Dry air can
aggravate Dry Mouth
symptoms and
disrupt your sleep.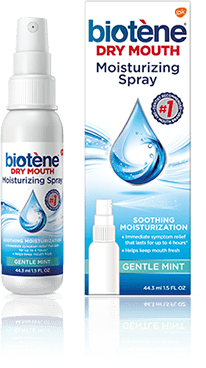 If you're traveling by plane,
the pressurized air inside the
cabin can be particularly dry.
Keep a bottle of Biotène®
Moisturizing Spray in your
carry-on for portable relief.


Eat meals more frequently
throughout the day and
be prepared with snacks,
as this helps stimulate
saliva flow.

Minimize alcohol and
caffeine consumption, as
they can dry out your mouth.